Selecting the right overhead garage door for your home may not be such an easy task as some may think. There is a large choice of options to choose from: size, styles, material, openers, safety features, insulation, and so on so forth. All of this information can become quite mind-boggling. Here is some basic information that will help steer you in the right direction.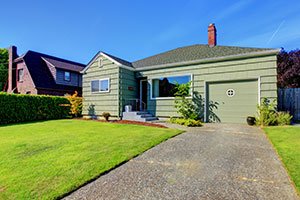 Make Sure the Door Matches the Home
The appeal of the home is very important, for neighborhood appearance and property value purposes. Make sure the electronic garage door you choose flows with the décor of your exterior home design. There are many options on the market to make sure this is possible. There is probably no property that doesn't have a compatible garage door somewhere on this planet. However, curbside appeal is not the only thing to consider. Safety and security are at the top of the list as well.
Ensure Security Is Up-To-Par
Considering that your garage door is the largest entrance to the home, it only makes sense to ensure that it has adequate security features. If you plan on purchasing, or already have an electronic door that with a remote operated opener, make sure the garage door opener's security features are tamper proof and reliable. This may be the primary defense against home burglary.
Test Safety Features
Once your garage door installation is complete, test the safety features. One way to do this is to place a plank in the path of the door as it is closing. As soon as the door comes in contact with the obstruction, it should automatically go into reverse-mode and go back upward. This is the reversing feature that prevents the door from crushing down on kids and property. This feature will greatly lessen incidents.